23 Sep

The African Express: A Special Delivery for a Cameroon Hospital

"I am feeling so happy. It's very emotional. It's very, very emot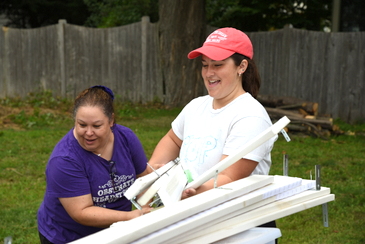 ional. It really and truly is. God is so good."Marcy Brenner, a Rite
of Christian Initiation for Adults (RCIA) coordinator at All Saints Parish in Brunswick, choked back tears as she watched dozens of volunteers carry item after item out of
the Skolfied House, a former nursing home in Brunswick. "We have everything from beds to toilets to sinks to armoires to lamps," she says. The items, which also include bedside tables, curtains, and more are being donated to the Diocese of Kumbo in the central African country of Cameroon.  They will be used in a recently constructed Catholic hospital, which hasn't been able to open because it lacks furnishings and equipment.
"Without these things, the hospital doesn't get off the ground. We have the structures, but they are empty. It's like having food, which is uncooked," says Father Eugen Nkardzedze.
It was a casual conversation between Father Eugen and Marcy that got the project, which All Saints Parish has dubbed "The African Express," rolling.   Father Eugen, who is from Cameroon, has been serving at All Saints while studying in this country.  He shared some photos of the children from his home with the parish, which Marcy happened to see.
"The children were so happy, and they were so joyful. And I thought, 'This is so precious,'" she says. "I just couldn't get those little thoughts and those little faces out of my head."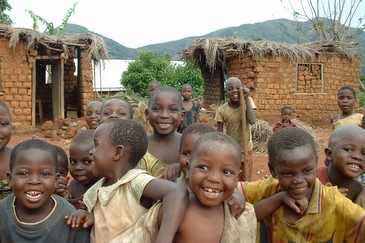 When she saw Father Eugen the next day, she told him how much she loved the photos, which is when he showed her pictures of the new hospital.
"I said, 'Wow, how many patients do you have in that new hospital?'  He said, 'None, because we don't have any supplies, and we don't have any hospital beds,'" she recalls.
Wondering how he would ever be able to get beds, Marcy returned home where, that same afternoon, a newspaper ad caught her eye.
"I read it, and the first two words in the sentence were 'hospital bed,' and I thought, 'I have to find out about this.' So, I went and grabbed the phone, and I called the number," she recalls.
At first, there were no answer, but a short time later, Amy McLellan called her back.  Amy, also an All Saints parishioner, had recently bought the Skofield House and was in the process of converting it into independent living senior apartments.  Along with the property came the furnishings, none of which she needed, leading her to hold a giant yard sale.
"This is a two-million dollar project, so any little bit of money helps, even if it's 20 bucks. So, I thought that maybe I could make a few dollars and maybe provide a bed at a really low cost to someone," she says.
Unfortunately, she says she picked a day that conflicted with other activities in town, and her sale barely netted more than that 20 dollars, $22.05 to be exact.  She was sitting on the curb with some friends, wondering what to do, when Marcy called.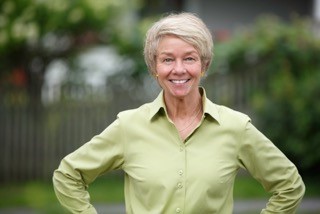 "This woman said, 'I'm sure it's not possible. I'm sure you're going to say no, and I truly understand if you say no.' And, I'm just waiting for her to ask what she wants," says Amy.
When she found out, she says that she told Marcy, 'You have just won the let's build a hospital in Africa sweepstakes.'
Amy compares Marcy's reaction to a child on Christmas Eve.  "She was just butterflies all over the place."
Marcy says, "I could hardly sleep that night. I was so excited."
Amy, Marcy, and Father Eugen got together, and the three hit it off immediately.
"It was like love at first sight for all three of us. We call each other the trinity because we're all working together," says Marcy.
"You know when you first meet someone, and it's like ten seconds, and then, you feel like I've just always known you.  That was the feeling," says Amy.
"She and Marcy have been my angels," says Father Eugen.
Amy says when she was growing up, her father would often lean over to her while at their family's noisy dinner table and whisper in her ear, 'Amy, to whom much is given, much is expected.'  She says it is why she wanted to open the senior apartments, which will be known as the McLellan House, and why she was moved by the opportunity to help the people of Cameroon.
"It just gives me goosebumps to know a little bit of the McLellan is going to be over in Africa, and I might be just dreaming and being hopeful, but I'm so hopeful that the residents of the McLellan and the people at the hospital can be pen pals or something, connected somehow," she says. "I'm hoping that we're friends for life."
Work on the "African Express," however, was just beginning. The first task was to move the items out of the Skolfield House, since renovations were already underway.  Marcy says she looked to get a storage container where they could temporarily place the items, but she learned it would cost $710.  Then, a parishioner who formerly did maintenance work at the church suggested she turn to other parishioners for help. She remembered one, Peter Labbe of Ray Labbe and Sons, Inc.
"He called me back in less than an hour, and he said, 'I will go to Bangor in the morning, and you'll have one,'" she recalls.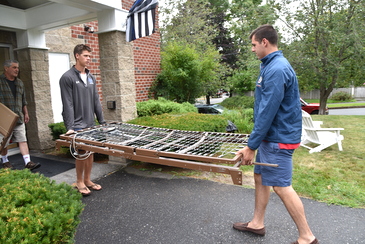 There was no charge.
"There is God again, making sure everything falls into place," Marcy says.
More than 30 volunteers, from youths to seniors, came together to help move the items across town to the parking lot of Saint Charles Borromeo Church, where the storage unit was placed.
"The fact that Marcy organized this, and we could put the two worlds together, was amazing," says Natalie Brown, a volunteer.
"You have a confluence of events that wouldn't happen if God wasn't directing it," says Sheila Murphy, All Saints youth ministry coordinator. "It's kind of like, ride the God wave."
"We have to do what we can. We're all connected," says Ruth Bouchard Klein. "Some people are poor, and some people are rich. The more we have, the more we have to share.
"Being able to recycle, because they are closing this down, and giving it to someone who doesn't need something new but needs a hospital bed is just really something amazing," says Vincent Larovere, a Bowdoin College student.
"It's awesome because of Father Eugen coming over to fill in as a priest for a little bit," says Joseph Beale of Boy Scout Troop 648. "It's really good to be able to help his home village."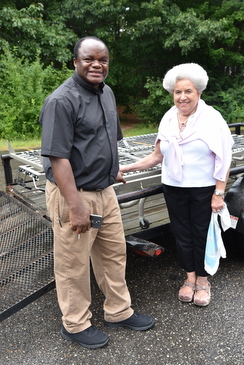 Father Eugen says some people in Cameroon have to travel hundreds of miles for diagnostic tests such as x-rays and CT scans.  In addition, those who speak English have to travel to French-speaking parts of the country, making it difficult to communicate. The new Our Lady of Lourdes Hospital is situated in the English-speaking village of Nkar, Father Eugen's hometown, and will serve people who speak both languages.
"Imagine that you have to travel 300 miles to where you may not be able to express yourself properly. Struggling with French to express your health issues is difficult, and people don't feel comfortable as such.  We're dreaming that we could bring the facilities closer," he says. "We don't have the means, but that doesn't stop us from dreaming. We dream very, very big."
Father Eugen says the new hospital is something he is passionate about because his own mother had to walk 10 miles to the hospital when she was about to give birth to him.  She made it six-and-a-half miles before having to stop at the home of a man who became his godfather.  He says his name reflects that journey, literally meaning 'Nkar has given birth to a child on the way.'
"I said, 'Maybe I could work hard to stop another woman from going through that same ordeal.' So my passion is defined by my own personal involvement," he says.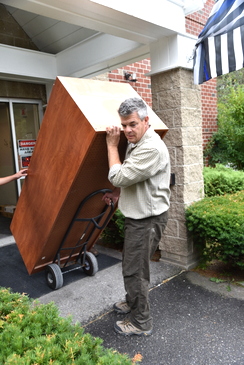 In the midst of fundraising to ship the items overseas, the African Express got an additional boost. Aware that Brunswick's two hospitals had recently become one, McLellan contacted Lois Skillings, the president and CEO of Mid Coast-Parkview Health, to see if the hospitals might have items no longer needed.  The result was a donation of examining tables, filing cabinets, chairs for patients, office furniture, and more, enough to fill a second storage container.
Father Eugen says he is grateful for the help the people of the Diocese of Kumbo have received.
"We want to share our own gifts from our own Church and also to partake of the gifts of the Church here," he says.  "We have things we can bring in here, our own gifts, and at the same time, we should be humble to accept the gifts that God gives to us from the Church here.  So, it is a communion."
The parish has raised most of the money needed to ship the items, but if you would like to help, donations can be sent to All Saints Parish, 132 McKeen Street, Brunswick, Maine.  Attn.: Martha Corkery.
URL to article: http://portlanddiocese.org/harvest-african-express